Take a step towards an easier lifestyle and enjoy relaxing at home on the weekend instead of attending to constant upkeep.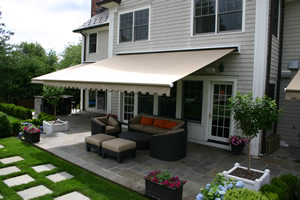 When it comes to maintenance-free products, our professionals at Thermal Tech have the answers! Consider the possibilities. You can enjoy the great outdoors right at home by expanding your livable space with manual or motorized awnings over your patio or deck. And at the same time, perhaps you like to upgrade your deck to high-tech material that won't fade, splinter or require stain. Then again, you may be interested in easy care vinyl windows, doors or even cedar shingles that look authentic. Or how about hand-split shakes to spruce up your home's exterior? If the look of stacked stone is your preference, even your neighbor won't be able to tell the difference. Whatever your choice, you can rest assured that our next-generation products will dress up your exterior and save you precious time for years to come.
Are you ready to put your feet up under the shade of your own patio awning?
"We've sold hundreds of retractable awnings in summers past and have recently installed awnings for local enterprises," says owner Jay Nordwall.
And he notes, customers like having their business name printed across the fabric. Like so many of our exterior products at Thermal Tech, awning frames will last a lifetime. Their quality attests to a high level of workmanship. Furthermore, our professional installers pride themselves in getting all your components customized to function the way you desire. Locals and Canadians alike are drawn to our Evergreen location warehouse where over 100,000 square feet of vinyl siding alone is kept in stock. They also find siding components, decking, patio covers, awnings and even aluminum pergolas are available at competitive pricing. You too will discover that we go out of their way to help you achieve your goals. In fact, we can custom design your project to integrate the features you want and then follow through with expert installation. Or we will give you the tools and guidance to do the job yourself.
With 38 years of service to homeowners, renters, contractors, remodelers and business owners, we provide a knowledge base that just keeps expanding.
This assists your selection of exterior products and accessories. Furthermore, our business guarantees your exterior improvements will stand the test of time and that all movable parts, (such as those in retractable awnings,) will operate smoothly. Furthermore, you can expect your purchases to add value to your original investment while making your exterior more attractive.
State-of-the-art products, such as retractable awnings and maintenance-free vinyl siding
Professionalism and customer service is our "strong suit".
Will assist do-it yourselfers and provide installation steps
Custom design service which integrates all components
Detailed knowledge of every exterior product on the floor
Installers trained in every product application
Our collective experience has forged our success over 40 years
Quotes available for your project with solutions that work
Competitively priced, with wholesale pricing for bulk purchasing
We stand by our product warranties and installation
Nordwall credits his veteran father, Roy Nordwall, with establishing a solid reputation since opening in 1975. In those days, Thermal Tech operated as an insulation company, but Roy and his installers were open to industry innovation. So when vinyl siding came along, they pioneered the way. In fact, one of our most experienced installers in the valley, began training others to install the siding in 1978. Now he is the company's Awning Specialist. Thermal Tech first met the growing demand while operating from the family's property until 1996, when they saw fit to become more centrally located. Since then the office, shop and warehouse has operated on LaSalle Road in Evergreen, which is Highway 2 East, just outside of Kalispell. After taking over his dad's business in 1993, Jay has increased the variety and quality of exterior products for residential and commercial applications. Today, the business boasts high tech and "green" items that are unique to the industry. The simplest application can have long reaching effects. Take awnings for example. You can buy them in a fixed or retractable mode. And when they are motorized, you are free from the job of manually rolling the fabric back. The fabric can also be stored in a cassette or a partial cassette which keeps it tucked away from view.
If you live in a windy area, you may want to consider motorized awnings with wind sensors that automatically retract if the wind whips up. Or if you live by a pond or lake, you may opt for a drop-down screen which extends over the edge of the awing to reduce glare. Awnings can be mounted on the roof, wall or from a soffit. They can project outward from 7 to 13 feet and are powdered coated to last. The valances come in six different styles, while the angle of the awning can be adjusted to personal preference. Fabric comes with a 10 year warranty, motors have a 10 year warranty and the frame is given a lifetime warranty.
NuImage Awnings
Mid-America Siding Components
Coeur d-alene Windows
Therma Tru Doors
CertainTeed Siding
Exteria Products
Metals USA
With so many features, these next generation products are making lasting impressions with our customers for years to come.
For further information, call us at 406- 755-3388 or come by our office at 2301 Hwy 2 East in Evergreen.